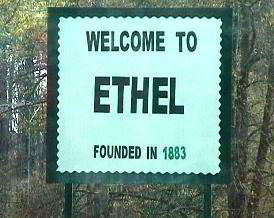 ---

Below are links and references to interesting facts, facinating photographs, and other engaging displays of information about this diminutive settlement that has played such a huge role in the history of our family, and remains an enduring symbol of our heritage.
---

This reference takes you to an interview with Beatrice Breazeale Bailey concerning the history of Ethel, Mississippi. She was invited to appear on a local television program due to her activities as an Ethel historian. This is the transcibed audio of the television program. It offers many details not found elsewhere and the unique personal perspective of an eyewitness.
---

This link will take you to a well designed, fully appointed site dedicated to Ethel and the whole of Attala County. It has been crafted by Edward Hutchison of Madison, Ms. Mr. Hutchison and his wife, Jean, are genealogical researchers, among a variety of other pursuits, interested in Ethel's original familys, vintage photographs of the people and places around Ethel, the general history and lore of the area. This is a unique find and an ideal sister site.
---

Lots of facts, statistics and interesting information about Ethel, Mississippi, today. Where it is, who lives there, what's the weather like, and what's going on there, generally speaking, of course.
---

This will take you to the web presence of The Attala Historical Society, whose physical presence is in Kosciusko, Mississippi, a mere ten miles from Ethel. The Attala Historical Society strives to promote and preserve the history, culture, and heritage of Attala County. The site has distinctive offerings related to Ethel's home county and brings a broader perspective to the discussion.
---

A tribute to Thaddeus Kosciuszko, a native of Poland who felt so strongly about the struggle for freedom in America that he volunteered and served seven years in General Washington's army as an engineer. A remarkable man, a remarkable life, and the namesake of the Attala county seat.
---

A long impressive list of accomplishments and firsts that Mississippi has to it's credit. Some of these will take you by surprise. You may submit other little known facts and add to the list.
---
Click here for a list of the basic items needed to complete the Ethel page.