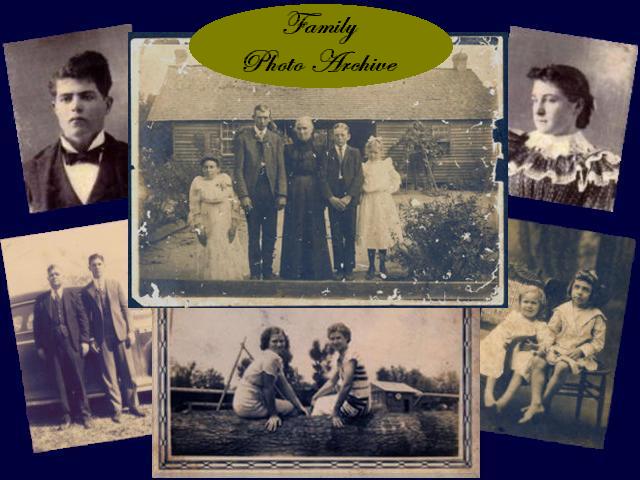 Photography was a new-fangled thing at the dawn of the twentieth century. George Eastman had introduced the box camera and rolled film in 1888, when Charlie and Lula were only six and seven years old. Portrait studios were doing good business and professional photographers were lugging their cumbersome equipment down every backroad in the country. As the equipment and the science matured, the capacity to make pictures of every aspect of life grew with them. Pictures and print descriptions are the only eye-witness accounts that remain of the way things were. It can be said that photographs are gemstones of memory because they can say in a flash what sometimes can't be said with ten-thousand words. Each one that survives intact is a precious glimpse of a moment suspended in time, a jewel for the eyes of posterity.

The links below will provide access to the diamond mines of our family's splendid march through the last one-hundred-plus years. Explore, enjoy, and remember as you do, that without these photos, these little peeks at life 'back then' would not be possible. Take plenty of pictures of your life now, to leave for those who follow us. It's important.
---

Gallery One
Click on individual thumbnails or scroll down for slideshow feature



---
SlideShow Feature
If you adjust Windows Internet Explorer (and, possibly, other browsers) to 'Full Screen' view, the slide show presentation becomes much more efficient. Press 'F11' to toggle 'Full Screen' on or off, or, you may go to the main menu bar at the top of the screen and click on 'View', then on 'Full Screen". The bar that remains can be removed by activating the 'Autohide' function. Right-click on any button on the bar, and then left-click on 'Autohide'. Next, use the scrollbar to position the picture so that the navigation buttons can be seen at the bottom of the screen. Enjoy the pictures in a sequential fashion. Of course, the faster your connection, the quicker you transition to the next picture. Return your browser screen to normal by pressing 'F11' or by clicking the 'Downsize' button to the left of the 'X' button in the top, right corner of your screen.
Press F11 to supersize your screen